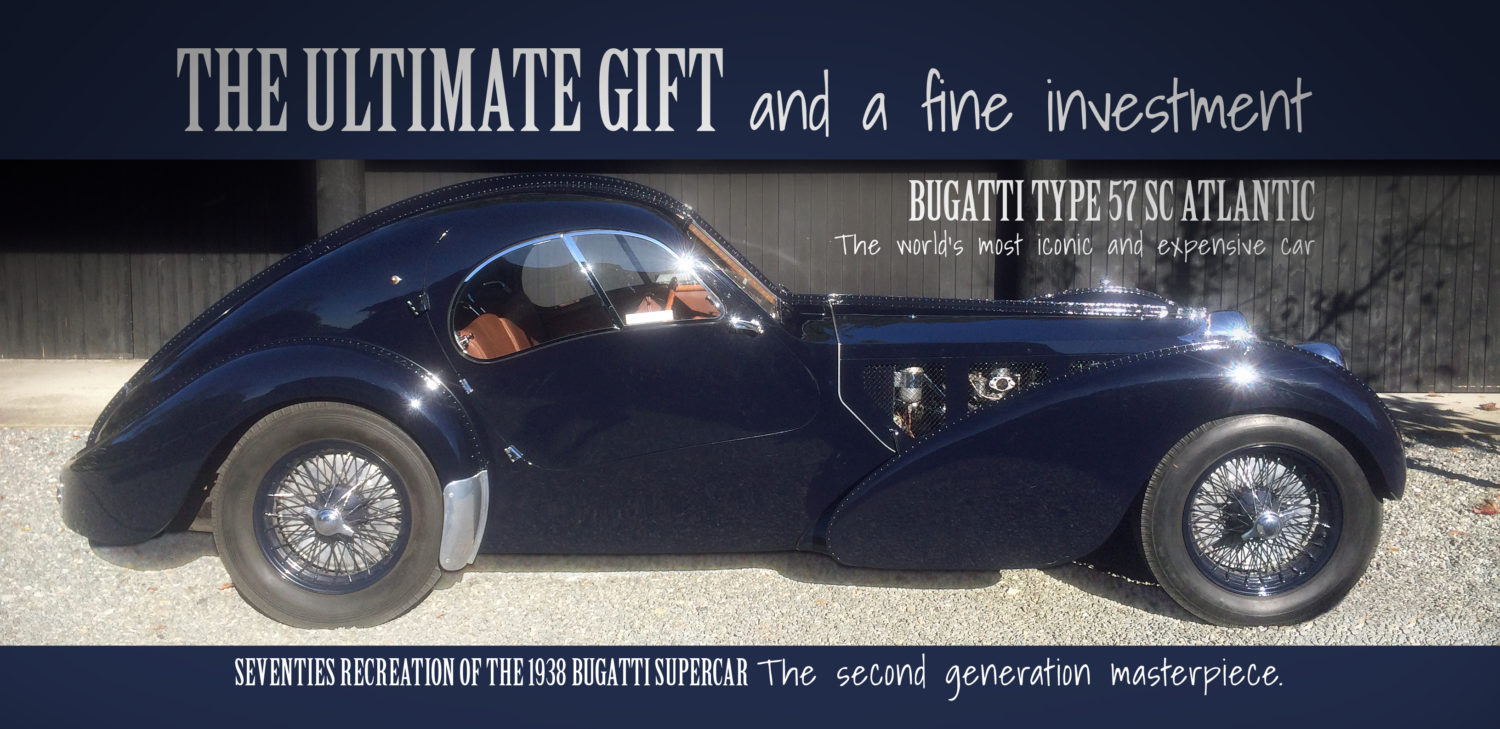 SOME HISTORY:
Back in 1937-38, Bugatti builds 3 Bugatti Type 57 SC Atlantic, with magnesium body, designed by Jean Bugatti.
Two of these has been traded within the last years, at around 35 mio. euro each!
Back in the 1970's, 3 danes decided to build 3 recreations of the above mentioned car in pure admiration. One of the 3 danes, and the mastermind of the project, is the well known engineer and respected Bugatti expert, Mr. Erik Koux. This project was so successful, that he afterwards built 9 more recreations in Denmark, and France, where he moved to.
Chassis number is "Koux no. 2", with 2 stamped between 2 stars on the tubular rear cross member of the chassis. The car's danish registration number is "K 57 730", dating back to a thirties Bugatti chassis no.
So it is no. 2 of their kind, 12 in all, according to "Nordic Bugatti Register 2014".
The car is fully accepted in the Bugatti Owners Club, UK.
"The cars appear as if they had just left Molsheim back in 1938. They are not mere look-alikes, they all have a significant amount of original Bugatti parts in them. The rest is precisely remanufactured duplicates. Type 57 engines converted to dry sump, and double oil pumps, power all but two of them, which is equipt with Jaguar XK engines. Donor Bugatti provide parts and titles, and yet there is no intent to deceive. The original Atlantic's and the Koux recreations are so few, and so well known, that there can be no suggestion of passing one off as the other." (Bugatti Revue 1440)
They were all based on the mr. Richard Pope original Atlantic, chassis no. 57591, now owned by mr. Ralph Lauren, according to the internet.
Seven of the 12 cars were supplied with fibreglass bodies as this one (some can have been changed later on) – 5 of them with aluminium bodies.
The engine is a very well and smooth running period XK engine. An original engine can possibly be found.
The front axel, rear axel, steering, springs, dampers and brakes are all genuine Bugatti parts on this car.
One of the latest longer trips was from Denmark to the south of France and back without any problems what so ever.
It is very difficult to value such a car, remembering 2 of the original 3 cars have prices at around 35 mio. Euro each. It is not only a "trailer king" – it is very useable and driveable –  "A smile a mile".
It is value for money, ready to Show, Go and Enjoy.
Price: POA by e-mail peclassiccars@gmail.com.
You are welcome.