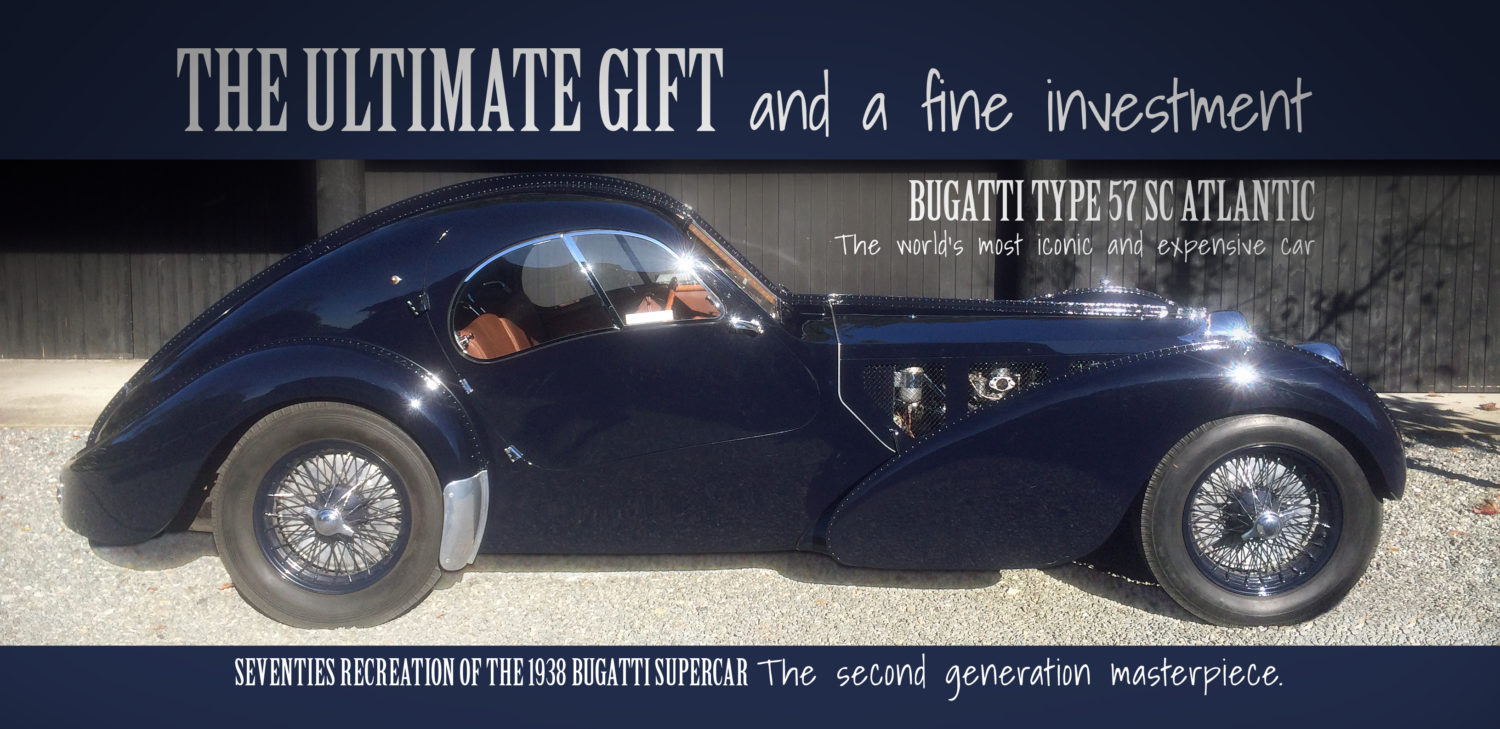 Bugatti type 57 SC "Atlantic" coupe 1938
Bugatti type 57 SC "Atlantic" coupe 1938, recreation from the seventies of Bugatti's supercar from the thirties, the world's most iconic and expensive car!
Back in 1937-38 Bugatti builds 3 Bugatti type 57 SC "Atlantic" coupe, with magnesium body, designed by mr. Jean Bugatti.
Two of these has been traded within the last years at around 35 mio. Euro each!
Back in the 1970's, 2 Danes decided to build 2 recreations of the above mentioned car in pure admiration, and one for each of them.
One of the Danes, and the master mind of the project, mr. Erik Koux, is a much respected expert, and very well-known person in Bugatti circles worldwide. He bought his first Bugatti in 1953 when he was studying to MSC in engineering. After several cars later, and with a huge knowhow about Bug's, he started to build the 2 recreations together with his friend mr. Bjarne Bo, a toolmaker/pattern maker who had already made patterns for cylinder blocks and type 51 wheels, and had the facilities for producing fiberglass bodies.
Bugatti parts were still readily available in Europe if you knew the right people, and by that time Erik had met many of them.
The original Atlantic with registration EXK6, chassis 57 591, formerly owned by mr. R. B. Pope, but then in 1974 was the property of Englishman mr. Barrie Price, whom Erik also knew. Price agreed that Erik and Bo could come to study and measure his car. So in 1974 they spent a week in England measuring, making templates and taking "At least a hundred photographs".
Koux could always give much advice on restoration Etc.
That car now belongs to mr. Ralph Lauren.
The next step was to make a 1;1 scale body in wood. They had Bugatti parts for everything but the engines, and decided that a Jaguar XK 3.5 L engine would do temporarily. The two cars were still just for the two of them with no plans for commercialization. The first car "Koux no.1" was for his own use, and the next one – and the actual car – "Koux no.2" was for Bjarne Bo's own use, and he kept it until recently.
The project/build was so successful that mr. Erik Koux later on build 10 more recreations.
"The cars appear as if they has just left Molsheim back in 1938. They are not mere look-alikes, they all have a significant amount of original Bugatti parts on them. The rest is precisely remanufactured duplicates. Type 57 engines converted to dry sump, and double oil pumps, power all but two of them, which is equipt with Jaguar XK engines. Donor Bugatti provide parts and titles, and yet there is no intent to deceive. The original Atlantic's and the Koux recreations are so few, and so well know, that there can be no suggestions of passing one off as the other."(Bugatti revue,  1440) 
5 of the cars was built in aluminum and 7 in fiberglass as this one, according to "Nordic Bugatti register 2014".
One of the above 10 other recreations belongs to the Volkswagen museum in Germany, VW who now owns the rights to the Bugatti name and builds the "Bugatti Veyron" etc.
Another one belongs to the worldwide famous collector and TV-host mr. Jay Leno – Both the work of mr. Erik Koux.
It is of great value and importance that the actual car consist of several main parts of Bugatti origins, front axle, rear axle, steering house, steering parts, brakes, shock absorbers, springs Etc.
The drive-line consist of a period Jaguar XK 3.5 L engine and gearbox, and the aforementioned Bugatti differential and rear axle.
Closer inspection of details clearly shows original parts as the Marchal headlamps, door handles, regulators, added with correct type of seats and leather upholstery on the doors, etc. and the chassis in 3,5 mm thickness.
The car is fully accepted by the Bugatti Owners Club, GB.
The car comes with Danish registration document and registration no. K57730.
The Atlantic Coupe is a masterpiece designed by Jean Bugatti, and in the actual form a wonderful recreation made by dedicated specialists with great skills of engineering and craftmanship.
A pride for any collection where it will be "The star car".
Look out for other recreations by now accepted worldwide, and a good way of "continuation" of the great cars – remember also Jaguar's and Aston Martin's continuation cars.
It is not only a "Trailer King" – it is very useable and driveable.
"A smile – A Mile"
It is value for money, ready to Show, Go and Enjoy.
Rendezvous with history.
It is difficult to value such a car, remembering 2 of the original 3 cars have prices at around 35 mio. Euro each.
POA
Vive la Marque!!
References
Nordic Bugatti Register 2014
Internet
The Bugatti revue, 14-4, Erik and the Atlantic.